Riva FLV Encoder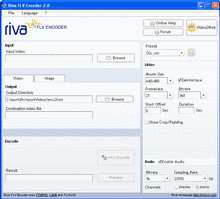 Transcode your existing videofiles to the advanced Flash Video (FLV) format with this free Riva FLV Encoder.
After selecting a source-file you can easily transcode it into Flash Video using one of the presets or your custom settings.
To view the result Riva FLV Encoder comes with the free Riva FLV Player.
If you want to tell a friend, just pass this Link: www.rivavx.de?encoder
At present you can transcode the following formats: AVI, MPEG, Quicktime, WMV. View the online-help with all supported codecs here.
NEW: The new Riva FLV Encoder 1.2 supports exporting images from a video as JPEGs
When you use the Riva FLV Encoder in combination with the Riva Producer or Riva Producer Lite you can use batch encoding with the library.
Download your copy of free Riva FLV Encoder here.
Features
custom settings for audio- and video-encoding
deinterlace
image extraction
FLV 1.1 (metadata)
Custom colored borders (Padding)
Crop parts of the video
Cutting with a startoffset and a encode duration
Drag-n-drop of video files directly on the encoder
Audio parameter check
language: english, french and german
System Requirements
Pentium 1,0 GHz or above
display with at least 800x600 pixels resolution
64 MB RAM or more
4 MB available hard drive space
Windows 98 or better
FlashPlayer plugin V7 or better for Internet Explorer. Plugin for other webbrowser are nor sufficent
Windows-compatible sound card
If you like free Riva FLV Encoder: